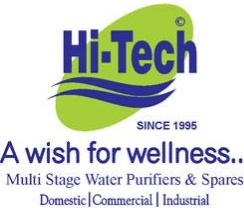 For filling the gap of domestic RO system manufactured in India. Dhanraj Group established Hi-Tech, the very first company manufacture and supply domestic reverse osmosis system. If you are looking for premium quality and performance base domestic RO systems then Hi-Tech is the best option for you. We use the latest technologies and best quality material to manufacture our RO systems. Hi-Tech believes in giving the best domestic RO water purifier system to our client.
Hi-Tech has a wide range of products catering to domestic, commercial and industrial markets. It is the leading brand for manufacturing and supplying commercial and industrial RO systems. Hi-Tech supplies not only in India but exports in international markets as well.
A plethora of products and the finest quality of spares provide the most desirable combination of quality and reliability. Brand recommended genuine spares not only increase the life of a product considerably but also prove out to be highly cost-effective in the longer run. Hi-Tech manufactures spares for its products and also provides customization facility for commercial and industrials RO systems.
Not only does Hi-Tech manufacture RO systems but also produces water vending machines and other home and kitchen appliances. Hi-Tech believes in health and hygiene. It has become an emerging brand in the global market for home and kitchen appliances….Know More